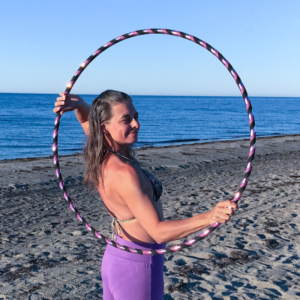 Dominique
Pedagogical Director and Instructor for All Levels
Dominique
After exploring several artistic and circus disciplines, in 2012 she discovered hula hooping, which has since been a true passion. So much so that she bought the company! Wherever she goes, her hoops accompany her and she takes pleasure in spreading the joy of dancing with a hoop. Dominique loves to teach and share her knowledge. She will make you laugh, move and exceed your limits!
Fanny
Instructor for All Levels
Fanny
Already hooked up on circus arts, Fanny picked up her first hula-hoop in 2014. She started taking classes in 2015 and never put it down ever since. She uses her practice as a way to clear her mind and get her cardio in. She loves double hoops tech and is always ready to share her passion and tricks!
Aurélie
Instructor for All Levels
Aurélie
Aurélie discovered hoopdance in 2013 in Paris with Hoopera, then traveled to Australia and joined the Happy Healthy Hoop dance troupe in Perth.
Certified Hoop Montreal instructor in 2019, she is constantly on the lookout for new sequences and will be happy to pass this passion on to you.
Chantale
Instructor for All Levels
Chantale
Chantale was first introduced to hula hooping in 2010, and has been actively practicing since 2016. This form of expression has enabled Chantale to channel her inner creativity while adopting an active lifestyle. Eager to take on new challenges and always looking for ways to learn and grow, she received her Hoop Montreal instructor certification in 2019. Through teaching, she finds the opportunity to share her passion and inspire others to develop their self-confidence.
Nayeli
Instructor Hoop yoga
Nayeli
Nayeli teaches Kundalini yoga and traditional Hatha yoga. In parallel, she trained as a hula hoop instructor at Vert Prana studios in 2015 and then became a hula-hoop ambassador for the same studio in 2015-2016. In 2017, Nayeli creates the concept Hoop Yoga in collaboration with Hoop Montreal.
Julie
Instructor for all Levels
Julie
In her search for an activity to get back in shape, Julie discovers the hula-hoop in 2013 and she fall in love instantly. Through hard practice, she not only improved her physical fitness, but also found a way to express her creativity. Passionate, she will share with you both the technique and the joy of hula hooping!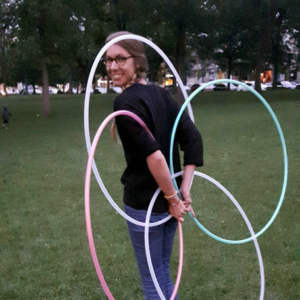 Catherine
Instructor All Levels
Catherine
Since she was young, Catherine has been attracted by artistic disciplines. It is in 2014 that she reconnects with this memory of childhood, the hula hoop. Quickly, the frenzy of the hoop invades him. She is conquered by the diversity of achievable movements and the freedom that this sport gives her. She will be happy to share this passion and accompany you in the discovery and progression of this wonderful sport.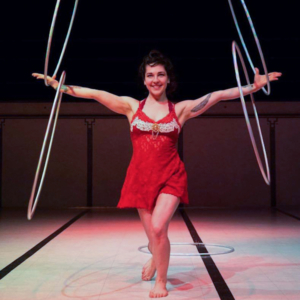 Mélodie
Instructor for All Levels
Mélodie
Always looking for new movements, new challenges, and opportunities to come to life on stage, Mélodie experimented with several artistic disciplines. From an early age she explores dance and theater, until she discovers, during her travels, the circus. Specializing in fixed trapeze, hula hoop and stilt animation, she worked with Cirquantique, Poécirque, CircoRevolución in Mexico and the Montréal Complètement Cirque festival.
Laura
Instructor for All Levels
Laura
It is her love of sports and dance that brings Laura to try the hula hoop. Introduced to this discipline in 2012, she is conquered instantly! She has a huge thirst for discovery and the infinite possibilities offered by hula hooping push her to deepen her practice. Motivated and enthusiastic, she will be happy to share her knowledge and love for the hula hoop!
Natacha
Instructor Hoop Postural
Natacha
Natacha Lauzon has been practicing the hula-hoop for many years, and was trained as a teacher by Rebecca Halls. She has also been practicing Crossfit for several years and trained as a crossfit coach. She holds a doctorate in chiropractic from the Université du Québec à Trois-Rivières, and is interested in human movement and practice including suspension therapy Redcord and motion analysis with FMS and SFMA.